Request a Bake
I'm hoping to make this blog more interactive by offering to make your requests. So, sweet or savoury, click on "request a bake"
This recipe was inspired by a recent visit to my favourite brunch spot, Caravan Kings Cross. There's very few things that match up to a leisurely brunch with their excellent coffee and the company of close friends (chat traditionally punctuated by a query of "cocktail?" from one particular friend – you know who you are!).
I am never going to make a version of their baked eggs which is quite as good – I wouldn't want to anyway because the experience is part of the joy. These are nonetheless a very tasty approximation and whether you chose to go the super-slow-roast route (make 1 day ahead) or the slightly speedier version, I can guarantee that you saturday morning will be made better by a sit down with a dish of these, a good coffee and a crossword.
Baked eggs with harissa slow roasted tomato and peppers
Serves 1 on its own or 2 if serving with a chunk of wholemeal bread to dunk in it.
6 tomatoes on the vine
2 red peppers
2 chestnut mushrooms or a few button mushrooms (optional)
2 eggs ( fresh as possible)
1 tsp harissa paste
1pinch smoked paprika
1 tsbp unsweetened live yoghurt
You can find the full recipe over at my monthly blog for Rangemaster UK
Yoghurt pots under the bed.
This was a well known phrase amongst the students of Hitchin Girls' School where I spent my younger years. To be honest, I can't completely remember what the point of the story was but I *think* it was to do with the Head Mistress's teenage son who used to leave empty yoghurt pots under his bed because he was too lazy to throw them away. It was her way of telling us to be helpful to parents and make an effort over the summer holiday. Anyway, having been sent selection of yoghurts by The Collective Dairy, and in particular a couple of pots of their new "Straight Up" unsweetened culinary yoghurt, I think that I may be in danger of being a yoghurt pot hoarder. I should note for the record though that my yoghurt pots will be washed and being re-used for packed lunches rather than festering under the bed.
My first taste of Straight Up was a sneaky spoonful after a day of baking sweet things. Somehow the pot then became empty. I'm not sure how that happened but it seems that the creamy but tart and ever so slightly cheesy flavour is the perfect antidote to baker's tastebud fatigue. Until now I have always used marmite or peanut butter on toast to treat this particular ailment.
I have since baked cakes with the yoghurt (see below) and used it in a harissa baked eggs brunch recipe (inspired by Caravan Kings Cross  -recipe soon). It works equally well in both and I can see many future uses in marinades, dips and bircher muesli. I had only planned to review the product in passing but I've enjoyed using it and the other excellent flavours (do try the coffee one of a weekend with some toasted brioche) so I'm afraid you've got a full rant from me about it :)
One of my favourite cake recipes is the BBC Good Food Vanilla Cake which they recommend for making wedding cakes. It's got a good dense texture which is good for icing and stacking but still feels really light. It gives consistent results and contains yoghurt, which I think must be what keeps it from being too sweet. This recipe for chocolate and pear cake is similar and is really good eaten warm with custard. It also freezes nicely. I used fresh pears but only because I had some in.
Other "straight up" recipe suggestions can be found here. I particularly like the sound of the honey and yoghurt bavarois.
Yoghurt, chocolate and pear cake
by Stephen Parkins-Knight
Serves: 6-8. Preparation time:20 minutes Cooking time: 50 minutes
300g The Collective Straight Up yoghurt
3 medium eggs, beaten
180g unrefined caster sugar
1 tsp vanilla bean paste or extract
250g plain flour
2 tsp baking powder
¼ tsp salt
125ml vegetable oil
150g drained tinned pear halves, cut into 5cm pieces
100g dark 70-74% chocolate, roughly chopped
Collective Dairy suggest: Any left over cake lasts 2-3 days and can be toasted and served with butter and apricot jam.
Preheat the oven to 180°C/160°C fan.
Butter and line a 2 lb loaf tin (24cm x 12 cm x 7cm).
In a large mixing bowl, whisk the Straight Up yoghurt, eggs and sugar together until smooth.
Add the vanilla bean paste, flour, baking powder and salt and whisk again. Slowly add the oil,
whisking all the time, until you have a smooth silky batter.
Pour half of the mixture into the loaf tin and scatter over half the chopped pear and half the
chocolate.
Pour over the remaining cake batter.
Scatter the top of the cake with the remaining
chopped pear and chocolate and push them down lightly into the cake mixture.
Bake on the bottom shelf for 45-50mins or until a skewer comes out clean.
If the top looks like it's darkening too much (check it after 30-40 mins) cover the cake with foil.
When cooked through, remove from the oven and rest for 10 mins in the tin before turning
out on a wire rack.
Serve the cake warm.
Can be frozen.
Thanks to Collective Dairy for the samples of Straight Up yoghurt as well as Blood Orange, Russian Fudge, Coffee, Mango, Lemon and Passion Fruit ones and some of their little squeezy pouches. I was not required to write a positive review and had only agreed to write a couple of lines giving my honest thoughts so this is most definitely an honest post!
You'd be forgiven that the only things I've baked or cooked recently have been for the HSH bakealong. Of course this isn't true – week night meals of the usual stirfry, risotto, filled pasta, pizza, baked fish etc have all been churning along ask usual. Over Christmas I also made gingerbread cupcakes using Wrights ginger cake mix and gingerbread syrup icing. These went storm and were a great way to have an interesting sweet offering without adding much work.
Finally, I made two types of brownies. I'd asked mum what she wanted me to bring for Christmas and the request came back for some brownies to keep the three generations of menfolk happy and chocolate-fuelled. The recipes come from a book I was given as a Christmas present by my sister in-law in 2013. I'm really impressed with these two recipes. They were easy, well written and tasted good. Sadly the book seem to be out of print but you can get it second hand: Chocolate -decadent and delicious home-made treats. I'd recommend it based on making these two and reading through the other recipes.
I managed to totally seize the chocolate when melting it so I made another batch to a different recipe which will be coming soon (bear in mind that the first was already a double). I didn't want to turn up empty handed! I searched the web for ways to rescue over-heated chocolate and the answer is generally: add a couple of cubes of chocolate to bring the temperature down fast OR add some butter and beat it hard to bring the temperature down. I did both and neither worked but I thought I'd plough on just to see what happened. They came out fine! I think  because the brownies are meant to be dense anyway it didn't matter that the chocolate mix would be heavy and hamper the air bubbles a bit. Anyway, this is clearly an indestructible brownie recipe and they keep really well.
I swirled some salted caramel spread around the top of the batter before baking to add even more sugar-based joy.
Sticky Chocolate Brownies
Recipe makes 9 according to the book but it depends on your recipients view on what size a brownie should be.
83g butter
140g caster sugar
100g soft brown sugar
125g plain chocolate broken up
1 tbsp golden syrup
2 eggs
1 tsp chocolate or vanilla essence
100g plain flour
2 tbsp cocoa
1/2 tsp baking powder
Preheat oven to 180c
Recipe fills a 20cm square tin, lined and greased
Melt butter, both sugars, chocolate, syrup in a saucepan. Stir until fully combined then take off the heat and leave to cool a bit.
Beat the eggs and vanilla / chocolate essence together, then slowly whisk in the chocolate. This is why it needs to have cooled – you'll cook the eggs otherwise (I realise this is probably a no-brainer for the rest of you but I'm always to tempted to do this too quickly).
Mix the flour, baking powder and cocoa together (sift if you're of that persuasion).
Fold the dry ingredients into the chocolate and egg mixture.
Put the whole lot into the tin and bake for 20-25mins. The edges should be pulling away a bit and the top might have cracked.
This is meant to have a stodgy middle so don't worry about that.
DING DONG! Ahem. Testing 1-2-1-2 I have an announcement to make.
I've been chosen as one of four people to act as an Ambassador for the ASICS Greater Manchester Marathon 2015.
I realise that this might engender responses along the lines of: "lunatic / oh no not another january health kick / great, now the blog is going to be all quinoa and kale" but I'm really excited about this. I've enjoyed running for a long time and I seem to be not too bad at it some I'm having a bash at really pushing it. Also, I have to admit I'm quite keen of both quinoa and kale. Sorry.
Anyway, if you're interested to know what that means you can find out more here on Athletics Weekly. I'm one of two ladies and two gents who are lucky enough to have been chosen and we'll be writing about our experiences as we push for a PB (3:10:47 is my current PB).
The other Manchester Musketeers are: Tom, Andy and Amile
So… for you, what does that mean? It means that in amongst the cake there will be some running related posts and maybe a few more run-fuelling recipes. Currently my runs are fuelled by large amounts of yoghurt (Thanks Collective Dairy – I appear to have developed a russian fudge habit!!) Never fear though, I shall not be trying to convert you all to marathon running… you can just laugh at me as I plod by :)  If you happen to be in Manchester on April the 19th please feel free to come and cheer me on. Maybe you could throw cake at me?
12/100
There are some things that are a pain in the posterior to photograph (eg. The Blondie Pie – beige filling, beige pastry) and some which are an utter delight. This bake falls into the latter category. Look at those crispy edges, look at those oozy blueberries with the juice drooling down the dough! I almost don't care what it tastes like (it tastes good).
I appear to have squashed 2 loaves worth into one loaf tin. I only realised this after seeing that Beckie had made two. I didn't read the bit that said to use a 2lb loaf tin. No wonder it was exploding out of the top! Still, I rather like it that way.
This loaf is not dissimilar to Povitica or Krantz cake  in that it is a brioche-type bread with some embellishment. However, the rises are faster and it uses a much less fiddly method to get layers and interesting texture. Another one on the to-bake-again list.
Blueberry Loaf
From Home Sweet Home by Hummingbird Bakery
For the dough:
300ml whole milk
25g caster sugar
1.5tsp dried active yeast – I used one packet (7g) of fast action yeast
500g strong white bread flour, plus extra for dusting
1 tsp salt
85g unsalted butter, cubed
For the filling:
60g unsalted butter, very soft
100g soft light brown sugar
200g blueberries
1 large egg, beaten
Make the dough up and leave to rise. Once it's risen you roll it to 30x38cm. Cut into 4 equal strips and scatter the blueberries and most of the sugar over. Stack the strips one on top of the other and then cut into 6 square pieces (I did 5). Turn them on their end and slot them into the tin. Leave to rise, then brush with egg and sprinkle with sugar before baking.
Join Beckie and me in our Epic 200 part bakealong. Next week it's Funnel Cakes.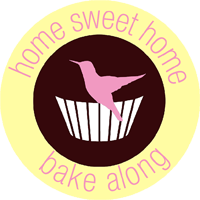 I'm also adding this to Cook Blog Share
On a chilly pre-Christmas evening having battled traffic jams and dodgy directions (from me) Mr B and I visited Rodells in Watford. Situated on a corner near Watford Junction train station there was a lovely homely glow coming from the large windows of the downstairs bar area. Walking in, people were sat on bar stools around the edge chatting away – some with just drinks and some with drinks and pudding. It was a really cosy, homely setting to come into and the rooms upstairs are just like two rooms in a house but with more dining tables.
This slideshow requires JavaScript.
We had:
Beef Brisket with Tendon Ho Fun. An interesting dish. Like a stew but with an oriental twist. I really liked the use of brisket and tendon as it gave a different texture to that which you'd normally find in beef stirfry. One minor down point – I really couldn't understand why there was bread with it as well as noodles.
Buddha's Veg (tofu, veg inc. lotus root and thick noodles) Top notch. This is the kind of food I love. It feels stodgy and filling yet light and healthy at the same time. The noodles were chewy and bouncy and the mix of veg was unusual which meant I didn't feel like I could have just made it at home. I don't know what was in the sauce but it was meaty and deep without feeling too salty or greasy and without actually containing any meat
Pork Baos The bun wasn't what I expected from a Bao – much more like normal bread than the bouncy doughy descriptions I've been given. That said, the melt in the mouth soft pork and plum sauce made it much like eating peking duck and that can never be a bad thing.
Potstickers (2 shrimp, 2 veg, 2 pork) Tasting exactly as you'd expect potstickers to taste – full of flavour and with plenty of filling. Could maybe have been a bit more browned on the base.
Mac and Cheese Sushi Style A bit of a Rodells cliche but for very good reason – every review you read of this restaurant mentions this dish. They even laugh about it themselves because it's become their calling card. I was fully expecting it to be alright but a bit of a gimmick. Not so. The clever thing here is how the discs hold together – the outside is crispy and yet when you cut into them you get a little ooze of cheese sauce. I'm planning to try to replicate this at home sometime.
Dora's Deep Friend Icecream A great idea but let down by the fact that the cornflake coating soaked up too much oil so it tasted mainly of that. No need for squirty cream either Rodells – c'mon, you're better than that!
I always feel like a bit of an fraud – if a  very happy fraud – when asked to review places. a) I'm getting to dine for free and b) I'm no culinary master myself so how can I judge someone else?cSo, Mr B and I judge purely on how much joy the evening gave us and whether we would go back. If you wanted a perfectly curated and consistent culinary experience then Rodells is not what you are looking for. If you want a list of all the things that you'd quite like to eat from around the world, something for everyone  and a laid back unrushed evening then Rodells is exactly what you want. Not every dish is amazing but there are some crackers in there. I would say that their portions should be a bit more consistent on the small plates – one dish we ordered was a massive bowlful and another was just two items, so it's hard to judge how much you want.
Before or after Christmas this restaurant is a great antidote. It perfectly serves those "I want something…something a bit different…but I don't know what I want" moments. The owner of Rodells is a lovely guy and keen to talk about his sourcing (as local as possible – he even tries to buy off allotment holders) and his vision for the future (a classy men's club style restaurant which Mr B is keen to visit with his bloke friends when it opens later in the year).
I'd recommend Rodells as a happy, homely and fun place to eat. The quirky but friendly personality of the owner comes through in the food and sends you away with a full belly and an amused grin on your face.
We paid for drinks but not the food. All opinionsn are my own and whilst I had pre-agreed to write a review was at full liverty to write what I liked. Thanks to Rodells for having us.