Request a Bake
I'm hoping to make this blog more interactive by offering to make your requests. So, sweet or savoury, click on "request a bake"
This is a shameless copy and paste of a press release but it's a rather good freebie so I thought I ought to be nice and share it…
TODAY (Thursday 13th November) just say "free Snowball Dough Balls please" at any Pizza Express and you'll get to enjoy a free portion of Snowball Dough Balls – a festive favourite combining PizzaExpress' iconic Dough Balls, with a sprinkle of cinnamon, a flurry of icing sugar and a generous dollop of vanilla cream dip.
This giveaway is to celebrate the launch of the new Christmas menu at PizzaExpress restaurants across the country. Snowball Dough Balls are back on the menu this week as part of PizzaExpress' new Christmas, featuring twists on the traditional such as Mince Pie Cheesecake and succulent duck with a mouth-watering plum sauce on a pizza the 'Anatra'.
When?
Thursday, 13th November, all day
Where?
Across all UK PizzaExpress restaurants
How?
To claim a free portion of Snowball Dough Balls guests will need to visit their local PizzaExpress restaurant and say 'FREE SNOWBALL DOUGH BALLS'. This can be for takeaway (no additional purchase necessary) or eat in (with the purchase of a main course).
Terms & Conditions:
1.    Offer open to individuals aged 16 or over
2.    Maximum of one serving per person
3.    Offer excludes Dough Balls Doppio, Dough Balls 'PizzaExpress' and Dough Balls Formaggi
4.    Offer cannot be transferred or substituted and no cash alternative will be offered
5.    Guests can redeem the offer via takeaway (no additional purchase necessary) or eat in (with the purchase of a main course)
Visit www.pizzaexpress.com/christmas for further information.
I was not paid to write this. I just wanted to share the festive bread-based joy with you. 
This is a re-edit of an old post and can now be found on my monthly blog over at Rangemaster
Mr Bland, who is a Yorkshire-man by birth, first introduced me to Parkin. In Yorkshire Parkin is a Bonfire Night tradition and I can see why. The best way to describe it to those of us more southerly born is that it's a really dense ginger cake. It is warming and sweet but the addition of oats and treacle create a depth of flavour and density of texture that is perfect for keeping the cold at bay on a cold November night. It's also sturdy enough to be wrapped up and shoved in a coat pocket for the walk home!
Ideally Parkin is made a few days (or even a week) before you want to eat it, as it matures excellently. However, it is still very good eaten fresh out of the oven, especially if drenched in custard. I am told that is also good eaten with a nice sharp cheese such as Wensleydale so I suppose I'll just have to try that out and report back.
I have given the option to sub-in oat granola for some of the porridgr oats as I like the extra texture it gives. If you do that you need to bring the sugar down a little as noted in the recipe below.
Ingredients
225g porridge oats OR 175g porridge oats & 50g oat granola
1 tsp baking powder
3 tsp ground ginger (Some people like to ½ tsp cinnamon or if you like it fiery you could also add chopped stem ginger)
225g plain flour
225g soft dark brown sugar OR 200g if using granola
170g black treacle
60g golden syrup
120g butter
1 large free range egg
250ml milk
Apologies for the swift Foodie Penpals update. It's no reflection at all on the contents – Suzie from Kent sent me a great mix of sweet, savoury, treats and ingredients. Thanks Suzie…here's what I got:
Chillis, dried and seeds to grow (from Wahaca which I also love)
Chai tea
Hot chocolate sachets – gone already!
Chocolate chips – made into muffins already
Chocolate stars – earmarked for Christmas baking
Harbio ghouls (seasonal)
Flapjack bites
Basil oil – saved our new sofa when it got gloss paint on it (turns out olive oil get is off and this was all I had!). Mr B did only use two drops so don't worry.
I sent to Kat in Glasgow. One more month and then probablyy a break for December to take part in the Cookie Swap.
You can see what everyone else got here
More about Foodie Penpals
Started by The Lean Green Bean, Foodie penpals is a way for food bloggers and blog readers to get to know each other, via a lovely parcel in the mail every month. This is Rock Salt has brought it to the UK and Europe. Here's the rough outline of how it works:
All interested parties in the UK and Europe – bloggers and blog readers alike – sign up by the form available at the bottom of the Terms and Conditions post
Participants are matched on the 5th of the month
Penpals send thoughtful, food related parcels, on or before the 20th of the month. The parcels can include home baked treats, shop bought treats (especially local or unusual things), cake cases or decorations – use your imagination. The parcel must include something hand written – a note explaining the box's contents, a recipe card, whatever you like. The price limit for the boxes is £10 – this is a limit, the point is not the cost, but the thought (no, really!)
Penpals open their boxes and rejoice!
At the end of the month, everyone blogs about their box, or writes a guest blog post if they are usually a blog reader and not writer. Everyone reads one another's posts and rejoices some more. Posts are made available on Lindsay's blog so we can all find each other easily
Find out more here: How it Works // Terms and Conditions.
2/100
Another cake that had I not been doing this Home Sweet Home bakethrough with Beckie would never have made it high enough up the to-bake list to grace the presence of my oven.
I halved the ingredients in this cake as, quelle surprise, I hadn't checked the amounts and didn't have enough ground almonds. I thought about just using 100g instead of 125g for the top but the thought of failing completely on only the second in this epic 100 part series was too much and I went for a petite cake instead. A 7 inch loose bottom tin lined well around the sides to help getting the cake out. I wish I had piped the macaroon top on to make it look a bit more refined but hey – why break the habit of a lifetime – we all know may baking is on the happy-slapdash-side of things. I'm hoping that will change a bit with this challenge, but for the moment I shall content myself with a lovely cake dainty in taste and sturdy in constitution.
If you halve the ingredients then the marzipan content is tiny, so I would suggest buying one of those little bars like Niederegger make, or wait until you are icing your christmas cake and nick a bit from that! I baked the cake for 35mins instead of 40 before I added the top, and then baked for 15more. It was still very moist.
Almond Cake with Macaroon Top
from Home Sweet Home by the Hummingbird Bakery
For the sponge
80g fine yellow cornmeal (mine was actually coarse but i hoped for the best and it was fine. I suppose it would have had a smoother texture but no one commented that it was grainy or anything.
80g plain flour
1 tsp baking powder
115g unsalted butter, softened
50g marzipan
200g icing sugar
4 large egg yolks
2 large eggs
1/2 tsp vanilla extract
60g sour cream
Fo the macaroon
2 large egg whites
125g caster sugar
125g ground almonds
You can find full instructions in the book or here and here.
Do join our bakealong – we may even start a linky if you sound enthusiastic. Here's a badge to get you started: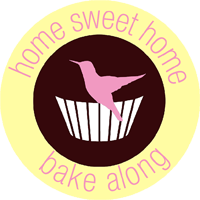 Also linking to Cook Blog Share
Next week it's Linzer cookies as made before by:
After that it's "black bottom pie".
Hiver Beer is a craft beer which uses raw honey from British bee keepers in their brew. You can learn more about it by listening to this episode of Radio4's Food Programme. I was sent some in a Foodie Penpals parcel a while back, but not being a big beer drinker I decided to hold onto it and make something with it. Fast forward to a rainy blustery October and it's high time for stew and dumplings so I stewed up some braising steak with the Hiver and lo a wonderful warming dinner was born. The beer smelled so good when I poured it in that I regretted emptying the bottle out. Maybe I should teach my taste buds to be more discerning.
For the stew:
1 onion
3 large carrots
1 large potato
5 large closed cup mushrooms
1 tsp dried oregano
1 tsp dried rosemary
1 tsp dried marjoram
1 tsp dried sage
1 bottle of hiver beer (330ml) Available from Ocado / Waitrose and some other places
2 tbsp tomato puree
1 beef stock cube
2 tbsp balsamic vinegar
280 ml water (roughly)
5 tbsp plain flour
Salt and pepper
3 gloves of garlic peeled but whole.
400 g braising steak cut into pieces
For the cobbler dumplings:
180 g SR flour
55g butter / marg
2 tsp rosemary
Cast iron casserole dish. Mine was 24cm diameter 3.6 litre capacity
Easily serves 4 – would do 6 with extra veg
Find the full recipe and method over on my monthly blog for Rangemaster.
I have to admit I was slightly relieved when the Great British Bake Off finished. Not because I didn't love watching it and not even because I didn't enjoy the structure and challenge of having to do the technical bake every week, but the added issue of not knowing what or how long you might need just made it unsustainable long term. Still, stubborn mule that I am I made it to the end as did Beckie at This is Not My Home.
Beckie and I pow-wowed over twitter and decided that we wanted to carry on a weekly challenge. Initially we were going to try either Laduree's Sucre (I wussed out of that one) or Mary Anne-Boerman's Great British Bakes which looks utterly intriguing and inspiring. Then I looked at all those barely-baked-from books on the shelf and thought we really should use something we already had. So, after comparing our baking libraries we settled on Home Sweet Home from the Hummingbird Bakery. There's a range of sweet goods – cupcakes, cheescakes, pies, traybakes, classic puds and even some token savouries, so we'll be rotating around the chapters one bake a week. In theory it will take us 2 years! If you'd like to join us please feel free and do let us know so we can cheer you on in our shared sugar-fuelled insanity.
So first up: Jaffa Cake Cupcakes
It was a joy to make cupcakes. I realised I'd not made them for at least at year, mainly because I hate the icing sugar cloud that is unavoidable when making buttercream icing.
This recipe has a really weird way of beating together all the dry ingredients into breadcrumbs before adding the liquid, but it makes for a delightfully easy bake and had a good texture. I even got to use a cupcake corer which was a present two christmases ago and hadn't been used. I thought they were a bit of a gimmick but after trying one cake-coring with a knife I was very glad to remember I had it.
I wasn't convinced that mini Jaffa Cakes existed but I've just googled and it seems that they do. I couldn't hunt any down though so I used a mix of half-moons and tiny circle of Jaffa Cake cut using the increasingly useful cupcake corer.
Jaffa Cake Cupcakes by Hummingbird Bakery
Makes 12-16
For the sponge:
70g softened butter
210g plain flour
250g caster sugar
1 tbsp baking powder
1/2 tsl salt
210ml milk (specifies whole but I used skimmed)
2 eggs (specifies large but I used medium)
1 tsp vanilla extract
100g smooth marmalade (I used chunky)
For the icing (as Beckie notes you only need 2/3rds of this unless you're being very generous)
450g icing sugar
60g cocoa powder
150 softened butter
60ml milk (specifies whole but I used skimmed and found I needed closer to 80ml)
1 packet of jaffa cakes (mini if you can get them)
Recipe can be found in Home Sweet Home by Hummingbird Bakery or at the Waterstones recipe card here

Next week: Almond Cake with Macaroon Top
as baked before by Girly Geek Things and Around the World in 80 Bakes