Request a Bake
I'm hoping to make this blog more interactive by offering to make your requests. So, sweet or savoury, click on "request a bake"
2/100
Another cake that had I not been doing this Home Sweet Home bakethrough with Beckie would never have made it high enough up the to-bake list to grace the presence of my oven.
I halved the ingredients in this cake as, quelle surprise, I hadn't checked the amounts and didn't have enough ground almonds. I thought about just using 100g instead of 125g for the top but the thought of failing completely on only the second in this epic 100 part series was too much and I went for a petite cake instead. A 7 inch loose bottom tin lined well around the sides to help getting the cake out. I wish I had piped the macaroon top on to make it look a bit more refined but hey – why break the habit of a lifetime – we all know may baking is on the happy-slapdash-side of things. I'm hoping that will change a bit with this challenge, but for the moment I shall content myself with a lovely cake dainty in taste and sturdy in constitution.
If you halve the ingredients then the marzipan content is tiny, so I would suggest buying one of those little bars like Niederegger make, or wait until you are icing your christmas cake and nick a bit from that! I baked the cake for 35mins instead of 40 before I added the top, and then baked for 15more. It was still very moist.
Almond Cake with Macaroon Top
from Home Sweet Home by the Hummingbird Bakery
For the sponge
80g fine yellow cornmeal (mine was actually coarse but i hoped for the best and it was fine. I suppose it would have had a smoother texture but no one commented that it was grainy or anything.
80g plain flour
1 tsp baking powder
115g unsalted butter, softened
50g marzipan
200g icing sugar
4 large egg yolks
2 large eggs
1/2 tsp vanilla extract
60g sour cream
Fo the macaroon
2 large egg whites
125g caster sugar
125g ground almonds
You can find full instructions in the book or here and here.
Do join our bakealong – we may even start a linky if you sound enthusiastic. Here's a badge to get you started: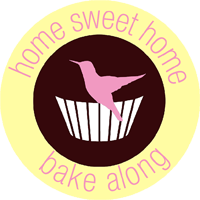 Also linking to Cook Blog Share
Next week it's Linzer cookies as made before by:
After that it's "black bottom pie".
Hiver Beer is a craft beer which uses raw honey from British bee keepers in their brew. You can learn more about it by listening to this episode of Radio4′s Food Programme. I was sent some in a Foodie Penpals parcel a while back, but not being a big beer drinker I decided to hold onto it and make something with it. Fast forward to a rainy blustery October and it's high time for stew and dumplings so I stewed up some braising steak with the Hiver and lo a wonderful warming dinner was born. The beer smelled so good when I poured it in that I regretted emptying the bottle out. Maybe I should teach my taste buds to be more discerning.
For the stew:
1 onion
3 large carrots
1 large potato
5 large closed cup mushrooms
1 tsp dried oregano
1 tsp dried rosemary
1 tsp dried marjoram
1 tsp dried sage
1 bottle of hiver beer (330ml) Available from Ocado / Waitrose and some other places
2 tbsp tomato puree
1 beef stock cube
2 tbsp balsamic vinegar
280 ml water (roughly)
5 tbsp plain flour
Salt and pepper
3 gloves of garlic peeled but whole.
400 g braising steak cut into pieces
For the cobbler dumplings:
180 g SR flour
55g butter / marg
2 tsp rosemary
Cast iron casserole dish. Mine was 24cm diameter 3.6 litre capacity
Easily serves 4 – would do 6 with extra veg
Find the full recipe and method over on my monthly blog for Rangemaster.
I have to admit I was slightly relieved when the Great British Bake Off finished. Not because I didn't love watching it and not even because I didn't enjoy the structure and challenge of having to do the technical bake every week, but the added issue of not knowing what or how long you might need just made it unsustainable long term. Still, stubborn mule that I am I made it to the end as did Beckie at This is Not My Home.
Beckie and I pow-wowed over twitter and decided that we wanted to carry on a weekly challenge. Initially we were going to try either Laduree's Sucre (I wussed out of that one) or Mary Anne-Boerman's Great British Bakes which looks utterly intriguing and inspiring. Then I looked at all those barely-baked-from books on the shelf and thought we really should use something we already had. So, after comparing our baking libraries we settled on Home Sweet Home from the Hummingbird Bakery. There's a range of sweet goods – cupcakes, cheescakes, pies, traybakes, classic puds and even some token savouries, so we'll be rotating around the chapters one bake a week. In theory it will take us 2 years! If you'd like to join us please feel free and do let us know so we can cheer you on in our shared sugar-fuelled insanity.
So first up: Jaffa Cake Cupcakes
It was a joy to make cupcakes. I realised I'd not made them for at least at year, mainly because I hate the icing sugar cloud that is unavoidable when making buttercream icing.
This recipe has a really weird way of beating together all the dry ingredients into breadcrumbs before adding the liquid, but it makes for a delightfully easy bake and had a good texture. I even got to use a cupcake corer which was a present two christmases ago and hadn't been used. I thought they were a bit of a gimmick but after trying one cake-coring with a knife I was very glad to remember I had it.
I wasn't convinced that mini Jaffa Cakes existed but I've just googled and it seems that they do. I couldn't hunt any down though so I used a mix of half-moons and tiny circle of Jaffa Cake cut using the increasingly useful cupcake corer.
Jaffa Cake Cupcakes by Hummingbird Bakery
Makes 12-16
For the sponge:
70g softened butter
210g plain flour
250g caster sugar
1 tbsp baking powder
1/2 tsl salt
210ml milk (specifies whole but I used skimmed)
2 eggs (specifies large but I used medium)
1 tsp vanilla extract
100g smooth marmalade (I used chunky)
For the icing (as Beckie notes you only need 2/3rds of this unless you're being very generous)
450g icing sugar
60g cocoa powder
150 softened butter
60ml milk (specifies whole but I used skimmed and found I needed closer to 80ml)
1 packet of jaffa cakes (mini if you can get them)
Recipe can be found in Home Sweet Home by Hummingbird Bakery or at the Waterstones recipe card here

Next week: Almond Cake with Macaroon Top
as baked before by Girly Geek Things and Around the World in 80 Bakes
So Nancy won. If you are strict about the result being on the final week only I think that's fair. I think all of the finalists were amazing and I'd happily have even half their skills and a good slug of their personalities too. What a lovely bunch.
Anyway…on the the final technical bake. When I heard it was the classics, I thought it might be an easier week with the emphasis on precision. Of course precision is key to being a Bake Off winner but we all know it's not really my forte, so I thought I could do a "classic" bake in my normal way and it'd be simple. Then I discovered it was not one but three bakes.
Originally I was only going to make one item, but the stubborn mule in me didn't want to be beaten. So, I adjusted them to be more palatable for my eaters and made:
Mary Berry's scones, but with added chocolate chips – recipe here. 
Gluten free victoria sponge – recipe from doves farm here.
Tart au Citron (half batch) – recipe here
Issues:
The lemon filling pulled away from the tart-edge a bit and I got some offcuts in the mixture.
I wasn't paying attention and overwhipped most of the cream, leaving the majority of it as lovely, but unusable butter. Oops. See – whipped cream just isn't worth it.
Scones are always disappointing.
Finally, I had lost the will a bit by the time I came to photograph them the photos are a bit….lacklustre.
This is being entered into  My GBBO Bakealong and the Great Bloggers Bake Off
Given that the guests on GBBO: Extra Slice and everyone I mentioned Schichtortte to who had tried it (surprisingly people had come across it – I'd never heard of it) basically said that it was only really good for being a cream-sponge, I wasn't about to waste a full 10 eggs on a dry-as-weetbix-with-no-milk cake. So, here's a mini version:
Luckily Beckie at This Is Not My Home had warned me at the horrifically superfluous amounts of vanilla glaze in the Hollywood recipe. I have no idea how you could possibly use that much.  I had decided that this recipe was a good excuse to treat myself to some vanilla bean paste, but oddly everywhere (2 shops) had sold out. Can't think why.
I love the concept of this cake. I'd never thought you could grill a cake and I'd be intrigued to try some other variations to see if you can make the texture nicer, but I presume that the nature of the cooking method means it needs to be quite dry. I think I got 17 layers in the end, though they are very uneven. I decided that chatting to my parents (on hands free) was more important than perfectly measuring the layers. Also, my scales are RUBBISH.
One thing I will take away from this cake is the chocolate glaze (sans rum but with a dash of dubliner whisky liqueur). Wow, that stuff is good. Just make the glaze and pour it over anything!
So.. cheats: vanilla essence not paste, strawberry glaze not apricot, avoidance of rum, half the quantity of cake, 3/4 quantity of chocolate glaze, vanilla bean glaze swapped for straight icing sugar dissolved with a little milk.
I've sent this cake with Mr B to a German family he's visiting today. I am hoping that the nostalgia will overcome the texture! I would recommend licking the glaze off (your slice) and then drowning it in custard or cream.
Schichttorte by Paul Hollywood
Ingredients (full sized cake)
For the cake
10 large free-range eggs, separated
100g/3½oz unsalted butter
150g/5½oz caster sugar
1 large lemon, zest only
1 tsp vanilla bean paste
150g/5½oz plain flour, sifted
65g/2¼oz cornflour, sifted
oil, for greasing
6 tbsp apricot jam
For the chocolate glaze – MAKE THIS!
50g/1¾oz unsalted butter
1 tbsp golden syrup
1 tbsp rum
1 tsp vanilla bean paste
75g/2½oz plain chocolate (36% cocoa solids), finely chopped
For the vanilla glaze – IGNORE THIS AND MAKE YOUR OWN ICING SUGAR GLAZE
250g/9oz icing sugar
1 tbsp rum
½ tsp vanilla bean paste
1-2 tbsp milk
Preparation method
Whisk the egg yolks in the bowl of a freestanding mixer on a high speed for five minutes, until pale, thick and creamy.
In a separate bowl, beat the butter and sugar together until pale and creamy.
Add the lemon zest and vanilla paste and mix well. Add the whisked egg yolks and beat well.
Add the flour and cornflour and mix.
In a clean, grease-free bowl, whisk the egg whites until soft peaks form when the whisk is removed.
Stir one-third of the egg whites into the batter to loosen the consistency. Then gently fold the remaining egg whites into the egg yolk mixture.
Preheat the grill to high.
Grease a 20cm/8in round springform tin with oil and line the base with parchment paper.
Spoon some of the batter into the base of the cake tin and spread evenly across the bottom. Give the tin a gentle side-to-side shake to even out the top of the batter.
Place on a shelf 10cm/4in below the grill and cook for two minutes, or until light golden-brown.
Remove from the grill, add another spoonful of batter, spread out with a pastry brush, and place under the grill for three minutes, or until dark golden-brown.
Continue layering and grilling until you have 20 layers alternating in colour from light golden-brown to dark golden-brown. (Or continue until you have used all the batter.)
Remove from the grill and leave to cool in the tin for five minutes. Carefully release from the tin and turn out onto a wire rack to cool.
Melt the apricot jam in a small pan over a low heat.
Pass through a fine sieve, then brush the top and sides of the cake with jam. This will help the glaze stick to the cake.
For the chocolate glaze, melt the butter in a small pan with the golden syrup, rum and vanilla paste and bring to the boil. Remove from the heat, allow to cool for five minutes.
Stir in the chocolate until melted. Transfer to a bowl and allow to cool to a coating consistency.
Place a large piece of greaseproof paper under the wire rack holding the cake.
Pour the glaze evenly over the cake to cover completely. Any excess glaze will be caught on the greaseproof paper and can be reused to fill in any unglazed areas of the cake.
(If you're doing it full-Hollywood..)
For the vanilla glaze, sieve the icing sugar into a bowl. Add the rum, vanilla paste and milk, stirring until completely smooth. Drizzle over the chocolate glaze.
This is being entered into  My GBBO Bakealong and the Great Bloggers Bake Off
This months box of joy came all the way from Vienna, Austria. Maria like me is 32 and is married with 2 cats. However, she is also a masseuse which sounds like a much more useful career than mine – I could be in need of a good massage after tomorrow (marathon day – argh!). She is also part Japanese. This made for a really interesting mix of austrian and oriental goodies.
1. Half cooked potato dumpling mix. This is what I imagine Austrian food to be like. It looks like you boil them. I reckon they'd be really good with sausages and a load of gravy! I have a feeling Mr B might like these.
2. Mushroom risotto mix. Hurrah – we LOVE mushroom risotto in our house. In fact this got us out of a hole last week as we;d had a crazy week and had people coming for dinner so we used the risotto mix and added some sherry, extra mushrooms, beans from the neighbour, prawns and tadaa – dinner for four (though it could have done with a bit more bouillon to boost the flavour).
3. Salted pumpkin seeds. Good to sprinkle on salads but also perfect snacking food. Really good with a glass of wine!
4. Blaschke Kokoskuppel - A coconut macaroon cake with cocoa cream (like the kind in a bourbon) at the bottom sat on a chocolate covered wafer. Yum.
5. Weihnachts sugar - sugar with a christmas mix of spices for baking: cinnamon, cloves, star anise, nutmeg, coriander and allspice. I like this idea – it's time saving and stops you having loads of spice jars that rarely get used.
6. Auer Tortenecken nach Sacher – If pink wafers got together with a Sacher Torte, this would be the result. I used these to put on the side of a chocolate lava pudding which I served after the above mentioned risotto.
7. White chocolate with puffed rice – ace! Like crunch bars! Again this got me out of a hole as when I came to make pudding for our friends I realised I didn't have enough dark chocolate.  I made up the chocolate quota with this white chocolate, put less butter in to allow for the fat content of white choc and added some cocoa powder….and it worked! Who'd have thought. It turns out I have learned something from this blogging malarky.
8. Last but no means least…a bottle of wine! I don't know much about wine but I do enjoy it and want to do it justice, so  I'm saving this for a nice evening in with some good food. Anyone know what this is like?
Now, let's look at the  Japanese section:
1. The pink and green packets are apparently common japanese sweets. The packets are the size of juicy fruit chewing gum packs but contain a sweet bean paste. One is matcha (green) and the other is pink. There is no clear flavour to them but I think it's similar to the aduki bean paste used in mochi cakes.
2. Peanuts covered in a soy flavour rice cracker. I have bought the English version of these before. The portian sized packets were good for taking to work
3. The disc in the translucent packet are thin rice crackers – they tast a bit like nori or prawn crackers. I really liked the savoury hit that these gave and isn't the packaging lovely? So classy looking!
4. Maria had told me that the block inside the silver packet was a dried fish soup mix but I forgot when I opened it and tried to nibble a bit. Big mistake! I will try it the proper way soon though.
This was Maria's first time taking part and she was incredibly generous with her parcel so I hope she enjoyed the experience. Though she did tell me that she was sent some japanese things…oops! I sent a parcel to Anna who is also new to FPP. Fingers crossed she liked it enough to carry on.
You can see what everyone else got here
More about Foodie Penpals
Started by The Lean Green Bean, Foodie penpals is a way for food bloggers and blog readers to get to know each other, via a lovely parcel in the mail every month. This is Rock Salt has brought it to the UK and Europe. Here's the rough outline of how it works:
All interested parties in the UK and Europe – bloggers and blog readers alike – sign up by the form available at the bottom of the Terms and Conditions post
Participants are matched on the 5th of the month
Penpals send thoughtful, food related parcels, on or before the 20th of the month. The parcels can include home baked treats, shop bought treats (especially local or unusual things), cake cases or decorations – use your imagination. The parcel must include something hand written – a note explaining the box's contents, a recipe card, whatever you like. The price limit for the boxes is £10 – this is a limit, the point is not the cost, but the thought (no, really!)
Penpals open their boxes and rejoice!
At the end of the month, everyone blogs about their box, or writes a guest blog post if they are usually a blog reader and not writer. Everyone reads one another's posts and rejoices some more. Posts are made available on Lindsay's blog so we can all find each other easily
Find out more here: How it Works // Terms and Conditions.
This seems to me to be a more complicated version of the Krantz cake from Ottolenghi's Jerusalem. Actually, come to think of it I cheated on that recipe by using nutella. I think that would have been a legitimate shortcut especially since making the chocolate filling created such a cloud of cocoa that I had cocoa coloured snot afterwards. Nice. You really want to eat this not don't you?
Anyway – no cheats this week. I used Martha's clingfilm method to stop the dough sticking to the work surface. I think it's the singular most useful thing I've learned from Bake-Off. I know the layers aren't that even but it's definitely cooked through – no raw dough here Mr Hollywood.
Povitica by  Paul Hollywood
from BBC Food
Ingredients
For the dough
300g/10½oz plain flour, plus extra for dusting
40g/1½oz caster sugar
7g salt
10g/⅓oz fast-action yeast
30g/1oz unsalted butter, melted
1 large free-range egg, beaten
½ vanilla pod, split and seeds scraped out
150ml/5½fl oz whole milk, warmed
For the filling
60g/2¼oz unsalted butter
4 tbsp whole milk
280g/10oz walnut pieces
½ vanilla pod, split and seeds scraped out
100g/3½oz caster sugar
2 tbsp cocoa powder
1 free-range egg yolk, beaten
To assemble
15g/½oz butter, melted
1 free-range egg white, beaten
100g/3½oz icing sugar
Preparation method
For the dough:
Put flour and sugar into a large bowl. Add the salt into one side of the bowl and the yeast to the other.
Add the melted butter, egg, vanilla seeds and warm milk and begin mixing on a slow speed.
When the dough starts to come together, mix for a further 5-8 minutes on a medium speed until the dough is soft, smooth and stretchy.
Or mix and then knead by hand.
Tip the dough into a lightly oiled mixing bowl, cover with cling film and leave to rise until at least doubled in size – about one hour. Butter a 1kg/2lb loaf tin.
For the filling:
Place the butter and milk in a small pan and heat gently until the butter has melted. Remove from the heat.
Place the walnuts, vanilla seeds, sugar and cocoa powder into the bowl of a food processor and blend to a sandy powder. Add the egg yolk, milk and butter mixture and pulse to combine. Set aside.
To assemble:
Lay 1m two lengths of clingfilm along the worktop next to each other slightly overlapping and dust with flour.
Turn the risen dough out onto the film and roll out the dough into a large 50x30cm/20x12in rectangle. Brush the surface with 15g/½oz melted butter. (I forgot this bit)
Dust your hands with flour and ease them underneath the dough. Using the backs of your hands, stretch the dough out from the centre until very thin and translucent (you should be able to see the sheet through the dough). The rectangle should measure approximately 1metrex60cm/40x24in.
OR keep rolling it – I was too scared to use hands and the rolling pin was working fine.
Taking care not to tear the dough, spread the filling over the dough until evenly covered. If the filling has been standing for a long time and is too thick, add a little warm milk to loosen it.
Starting at the long edge of the dough, lift the sheet and gently roll the dough up tightly, like a Swiss roll.
Carefully lift the dough and place one end in the bottom corner of the greased loaf tin. Ease the roll into the base of the tin to form a long 'U' shape, then double back laying the roll over the first 'U' shape to form a second 'U' shape on top.
Place the loaf tin inside a clean plastic bag and leave to rise for one hour.
Preheat the oven to 180C/160C(fan)/ 350F/Gas 4.
Brush the dough with beaten egg white and bake for 15 minutes. Reduce the oven temperature to 150C/130C(fan)/300F/Gas 3 and bake for a further 45 minutes, or until golden-brown. Cover with foil if the top begins to darken too much.
Remove from the oven and leave to cool in the tin for 30 minutes before turning out onto a wire rack to cool completely.
Mix the icing sugar with a few drops of cold water to make a runny icing and drizzle it over the povitica. Slice and enjoy.
This is being entered into  My GBBO Bakealong and the Great Bloggers Bake Off