Request a Bake
I'm hoping to make this blog more interactive by offering to make your requests. So, sweet or savoury, click on "request a bake"
I mention a while back that I'm a race ambassador for ASICS Great Manchester Marathon and promised that it wouldn't all be running blog posts from now in. This is my first running related post but it's mainly about heartrates and beetroot, sort of. Stay with me. In the meantime click the picture for a recipe for healthy-ish beetroot brownies (there's more at the end):
My training is now in full swing and I'm slowly learning to love the sections of faster paced running that I have to do. I've had a nutritional review and I've got a remote trainer. When you're trying to shave seconds and minutes of PBs the little things become important and that's where running related technology comes in. The % heartrate is relevant because it lets me know if I'm working hard enough.  If I'm doing "threshold" work it should be at 80-90% but if I'm doing sprints then I should be hitting 90-100%. Marathon pace should be 80-85% I think…I'm still learning. How does this all fit in with Beetroot? Well, a company called Beets Blu asked if I'd be interested in trying out their heartrate monitor. I love their logo:
I thought that it might be a lot of hassle trying to work the heartrate monitor as well as focussing on the run. How wrong I was. It's really light – I barely noticed I was wearing it and whilst I don't have any other ones to compare it to, I'm pretty sure it doesn't get any simpler to set up than this. All I had to do was turn on bluetooth on my phone and Runkeeper picked up the readings. If you're not using RunKeeper you can do it via their own app and make sure that you are getting the most out of any exercise you do. If you're a cake fan trying to lose weight or an athlete trying to maximise performance it turns out that this data really is quite relevant and it's worth making the most of any efforts you are making.
Now all I need to do is run faster and figure out how much protein and carbs I'm meant to be eating. Oh, and get a reliable GPS tracker. Why are they so expensive? RunKeeper reckoned I ran 26miles in 2 hrs last week. If only – it's driving me crazy!
Anyway, here's the rest of the tenuous link …. some more beetroot recipes. Click the pictures for the recipes.
Beetroot Risotto: Some good friends of our cooked us beetroot risotto the other night. It was VERY good.
Beetroot and goats cheese tarte tatin:
Yotam Ottolenghi's Beetroot Recipes:
BeetsBlu sent me a heartrate monitor and key finder free of charge in return for an honest review on the Amazon page. I was not required to write this review.
This month my foodie penpal was Julia from Cologne. She was away in Rome when the list came out and sent me a very chatty email on her return. I do love Foodie Penpals, everyone is so interesting and friendly.
Lemongrass & Ginger Pukka tea – one of the better herbal teas I've tried. It tastes of something. With a bit of orange squash added it's great.
Yoghurt and Strawberry chocolate bar  Mmmm
Soya mince Great for my marathon training. Full of protein.
Organic bolognese mix Mr B's fave!
Semolina pudding mix I used to dislike semolina but my tastes have changed so much I'm really looking forward to trying it.
Breakfast cereal mix I told Julia that I love trying cereals from other countries so she sent me a bag of her own personal breakfast mix which includes quinoa, puffed rice, flakes of some kind and some bits that are like honeycomb. Good stuff
Leone sweets from Rome Pastiglie Digestive Dissetaniti – these taste really weird. I'm not sure what flavour they are. The design of the box is cool though!
Kinder Bueno Bar Mmm
Spelt Pasta Again, great running fuel. Looking forward to eating it.
Crackers Good for lunches.
Soap and moisturising cream  A really sweet thought to put some non-food treats in.
I'll post a link here to everyone else's posts once it's up and available.
More about Foodie Penpals
Started by The Lean Green Bean, Foodie penpals is a way for food bloggers and blog readers to get to know each other, via a lovely parcel in the mail every month. This is Rock Salt has brought it to the UK and Europe. Here's the rough outline of how it works:
All interested parties in the UK and Europe – bloggers and blog readers alike – sign up by the form available at the bottom of the Terms and Conditions post
Participants are matched on the 5th of the month
Penpals send thoughtful, food related parcels, on or before the 20th of the month. The parcels can include home baked treats, shop bought treats (especially local or unusual things), cake cases or decorations – use your imagination. The parcel must include something hand written – a note explaining the box's contents, a recipe card, whatever you like. The price limit for the boxes is £10 – this is a limit, the point is not the cost, but the thought (no, really!)
Penpals open their boxes and rejoice!
At the end of the month, everyone blogs about their box, or writes a guest blog post if they are usually a blog reader and not writer. Everyone reads one another's posts and rejoices some more. Posts are made available on Lindsay's blog so we can all find each other easily
Find out more here: How it Works // Terms and Conditions.
As promised, here's a very belated part two of the Christmas brownie bonanza.
Part 1 was an indestructible recipe for golden syrup brownies. Again, the recipe is from an out of print book which was a gift from my sister in law and has so far proved to be really very good indeed.
Chocolate Fudge Cheesecake Brownies
from Chocolate – decadent and delicious home-made treats
85g butter
200g low fat soft cheese
1/2 tsp vanilla essence
225g caster sugar
2 eggs
3 tbsp cocoa powder
100g self raising flour
50g pecan nuts, chopped (optional)
Fudge Icing (I decided these were decadent enough and didn't make this)
4 tbsp butter
1 tbsp milk
75g icing sugar
2 tbsp cocoa powder
pecan nuts to decorate
20cm/8in square tin
Preheat oven to 180c/350f/Gas Mark 4
Beat together cheese, vanilla, 5 tsp of caster sugar until smooth. Set aside.
Best eggs & rest of caster sugar until light and fluffy.
Melt butter and cocoa powder gently until combined.
Stir in egg mixture.
Fold in flour and nuts
Pour half into cake tin and smooth over.
Spread (or dollop) cream cheese mix over and then cover with remaining batter.
Bake for 40-45 mins and leave to cool.
For icing:
Melt butter in the milk.
Stir in icing sugar and cocoa.
Spread over brownies and decorate with nuts. Leave to set before cutting into squares
Other snippets from Christmas:
and a Christmas gurn from me….
15/100
This is very similar the the Blueberry Loaf we made earlier in this bakealong. Why this one is in the "cakes, cheesecakes and roulades" section whereas the other is in "traybakes" I'm not sure but hey.
I love the method of cutting the dough into strips, stacking them and then lining them up in the tin. It's really easy and makes for a very good tear and share bread. Having experienced monster growth when proving the blueberry loaf I was miffed that this loaf didn't really rise. I am 90% certain that I didn't have the milk warm enough but the use of plain flour and less sugar could also have something to do with it. I'm waiting to see how Beckie got on. I have to admit, I was really looking forward to this bake so the fact that it was a bit dry was a disappointment. You definitely need the cream cheese drizzle. I think it's worth another go though to check whether it's my fault or the recipe.
Sweet Dough Lemon Loaf
from Home Sweet Home by the Hummingbird Bakery
For the dough:
75ml lukewarm milk
60ml tepid (er…lukewarm!) water
1/2tsp salt
50g caster sugar
2 1/4tsp dried active yeast (I used 1 7g sachet of instant fast action)
350g plain flour
55g butter
2 large eggs, beaten
2 tsp vanilla extract
For the filling
60g unsalted butter
100g caster sugar
grated zest of 3 lemons
For the topping:
90g full fat cream cheese
40g icing sugar
1 tbsp lemon juice
greated zest of 1 lemon
1 tbsp whole milk
1x 2lb loaf tin
Make the dough by adding warmed liquid and melted butter to the dry ingredients. Prove once, roll out and cut into strips. Spread the melted combined filling on each strip. Stack and cut into squares. Line them up end-on in the tin and prove. Bake and when cooled drizzle the icing over.
Join Beckie and me in our Epic 100 part bakealong. Next week it's Chocolate Truffle Cookies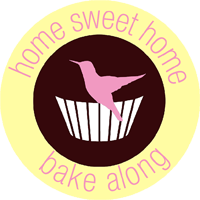 I'm also adding this to Cook Blog Share
14/100
Well well well. I never though I'd make these. The list of ingredients made my eyes bulge but actually there's nothing out of the ordinary. I found that in a busy weekend the best way to make these achievable was to do them in stages. I made the cakes on night and then doughnuts and icing the next evening.
The doughnuts are much more like a cookie mixture than the doughnuts you see being cooked at fairs. With these you cut them into disks and they puff up when fried. I also tried baking some of mine by spraying them in frylight and rolling them in sugar before baking at 180c. This worked well and felt more healthy though they don't brown as nicely and you get flat bottom.

On a bottom related note you may also get another kind of bottom if you eat too many of these. Doughnuts PLUS cupcakes…not really necessary is it? But they look great.
I'm really looking forward to next week's recipe – Sweet Dough Lemon Loaf. Sounds yum.
If you are going to make these please not my comments below about the volumes of doughnuts and icing – all over the place.
Doughnut Cupcakes
from Home Sweet Home by Hummingbird Bakery
For the cakes:
70g unsalted butter
210g plain flour
250g caster sugar
1tbsp baking powder
1/2 tsp salt
210ml whole milk
2 large eggs
100g strawberry jam
Cinnamon sugar:
1tsp ground cinnamon
100g caster sugar (or less – I used soft brown)
For the doughnuts:
(NOTE this makes way too many doughnuts. you could easily 1/2 this and still have enough for some failures)
250g Plain flour
1/4 tsp salt
1/2 tsp baking powder
35g unsalted butter
35g caster sugar (I used soft brown)
1 large egg
125ml whole milk
sunflower oil for frying
For the icing:
(NOTE: again this makes way too much even with generous portions. I have frozen a 1/3rd of it for later use)
660g icing sugar
1 tsp ground cinnamon
210g softened unsalted butter
60ml whole milk (I found I needed 80ml)
The cakes are made in the normal hummingbird way – by putting the dry ingredients and butter in the mixer and beating until you have breadcrumbs, then add the wet ingredients to create a batter. I really like this way of making the cakes. It feels like less hassle somehow.
Icing as usually – butter and icing sugar together, then add milk to loosen. Beat, beat, beat and more until fluffy. The beat some more until fluffier.
Join Beckie and me in our Epic 100 part bakealong. Next week it's Sweet Dough Lemon Loaf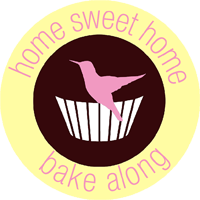 I'm also adding this to Cook Blog Share
13/100
I've made cornbread before (bacon and cherry) and really liked it and found it very moreish. I really liked the addition of the sweetcorn to this version as it made it more 'toothsome', but it somehow it just didn't have that rich, warming feel to it that made me want to scrape out the tin and dunk it in everything in sight. This one I could take or leave.
If you follow my fellow HSH Baker you will notice that there is a word missing from my recipe title. Mr B is not a chilli fan so I have subbed it out in favour for a pinch of paprika. I didn't have the same slug / flubber / pregnancy issue as Beckie but overall I'm of the same indifferent opinion as her about this recipe. I dunno, maybe I'm not a big enough fan of cumin (I certainly didn't use the full 20g – 10 was plenty and happened to be all I had) but I felt like the bread wasn't allowed to star in the recipe. It was merely being used as a carrier. I'lll be making corn bread again as a loaf but I might just stick to my own recipe I think.
Chilli Cumin Cornbread
from Home Sweet Home by the Hummingbird Bakery
20g of cumin seeds [I used 10g]
150g plain flour
1 tsp baking powder
1/2 tsp bicarbonate of soda
50g soft light brown sugar
60g coarse polenta
1/2 tsp chilli flakes [I used a pinch of paprika]
1 tsp salt
pinch of ground black pepper
2 large eggs
90g soured cream
100ml whole milk
120g tinned sweetcorn [eat the rest out of the can because it's bad and wrong but oh so good]
See my other cornbread recipe for an idea of how to make this – just toast the cumin seeds first.
Join Beckie and me in our Epic 100 part bakealong. Next week it's Doughnut Cupcakes.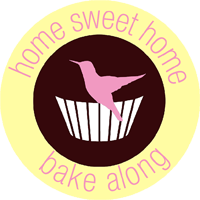 I'm also adding this to Cook Blog Share