Request a Bake
I'm hoping to make this blog more interactive by offering to make your requests. So, sweet or savoury, click on "request a bake"
After my grumpy indifference to the last two bakes, this one was a joy. It turns out that doughnuts are really quite easy to make and people like them a lot.
We had a BBQ at our place this weekend with lots of our friends and these went down a treat. Sun out, picnic rugs on the grass, Glastonbury in the background and fresh doughnuts. I'd take that over a field full of strangers and a trek to each stage any day. Thanks Hummingbird Bakery – these definitely aided some quality weekend fun,
Doughnuts
from Home Sweet Home by The Hummingbird Bakery
Makes 10-12 plus holes
1 packet instant dried yeast [They use dried active yeast]
60ml lukewarm water
2 tbsp caster sugar
190ml warm milk
1 large egg
30g butter, melted [see note below]
340g strong white flour
700ml sunflower oil for frying
For dusting:
100g caster sugar
2 tsp ground cinnamon
Make up the dough as you would for bread, prove once, knock back, cut out and fry.
If you're using the istant packet yeast like me you can put the milk, water and butter in together and heat lightly to melt the butter and get the liquid slightly warm (not too warm) and then add that do the dry mix. It save on time and the thing about waiting to let the yeast activate)
Join Beckie and me in our Epic 100 part bakealong. Next week: Cheese and Rosemary Breadsticks (deja vu anyone?)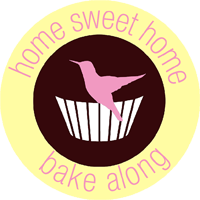 I'm also adding this to CookBlogShare hosted Super Golden Bakes
I fear my filo had been languishing in the freezer too long. It was rather brittle. Anyway, I like the banana and mars version of these. Very easy and oozy. Mine may not be pretty, but it's chocolate and banana, what could be wrong with that?
Banana and Mars Bar Parcels
adapted from Home Sweet Home by the Hummingbird Bakery
Makes 12 Parcels
2 Mars Bars
2 Bananas
1 x 270g packet of filo pastry (6 sheets)
75g unsalted butter
Icing sugar for dusting
Preheat oven to 180c.
Chop the mars bars and banana into slices.
On a clean surface unroll the pastry and keep under a damp tea towel to prevent drying out.
Melt the butter.
Take off one layer of pastry and lay it down, brush with butter.
Put a second layer on top and brush again.
Cut in half across and along the pastry to give four pieces (needs quite a sharp knife so as not to tear it)
Place a small about of the fruit and choc at the end of each piece (maybe a heaped tbsp worth).
Fold the sides in about 1cm to cover in the filling a little and then roll it up. The Ends will hold the filling in, in theory!
Do the same for the rest of the parcels.
Place seam down on a greased baking tray and brush with butter.
Bake for 20min or until golden.
Sprinkle with icing sugar if desired. Eat in the golden period of time when the chocolate it melted but not so hot that it burns your mouth.
You'll be able to see a much better version of this over at Beckie's Blog as we continues our Epic 100 part bakealong. Next up: Doughnuts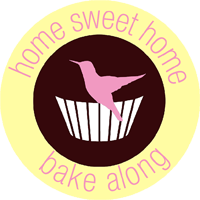 I feel a bit sheepish about posting these next two instalments of the HSH Bakealong for several reasons:
They have are spectacularly slapdash even by my standards.
Excuse: it's been busy and I've not had time to get the ingredients in, make and photograph.
Excuse #2: I'm rubbish at being neat.
They are veer quite a way from the original recipes.
Excuse: Neither of these have been particularly useful bakes. Hard to use in my week or give away. actually this speaks to the reason for the above as well.
The photos are awful.
Excuse: see above
I'm late in writing them up.
Excuse: see above  
I'm only posting these sorry specimens to make sure the challenge is complete.
So, Cherry Pie which wasn't cherry. I couldn't find tinned cherries and it wouldn't have got eaten (I had gluten free chocolate loving people coming for dinner and the latter of those criteria applies to most of our guests). Oh wait, I did defrost some mixed fruits, but I ate them before I got round to making the pie. Oops.
I made the pastry, forgot about it in the fridge for a couple of days and then decided to make jam tarts filled with Asda's version of Speculoos spread and one lattice pie with marmalade in, just to at least give a nod to the spirit of the pie.
I'm afraid I therefore cannot vouch for the pie filling part of the recipe, but the pastry was nice.
Cherry Pie
from Home Sweet Home by the Hummingbird Bakery
Serves 8-10
For the crust
220g cold unsalted butter, cubes
450g plain flour plus extra for dusting
160g caster sugar plus extra for sprinkling
3 large eggs
For the filling
700g fresh, tinned or frozen (then thawed) pitted cherries
150g caster sugar
30g cornflour
1/2tsp vanilla extract
One 23cm diameter pie dish
You'll be able to see a much better version of this over at Beckie's Blog as we continues our Epic 100 part bakealong. Next up: Fruit & Nut Chocolate Parcels (ish)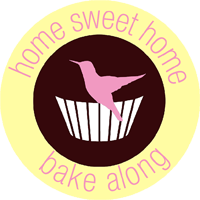 What: A flat white coffee
How much: £1  like everything there
Notes: Everything is £1. Everything. Sandwiches, salads, breakfast, cakes, drinks etc. I had seen about this place in the press and assumed that the sandwiches would look measly and that there would only be filter coffee available. On the contrary, I would happily return to try their food and snacks and they appear to serve all sorts of drinks. On the downside, this really wasn't a flat white. It was a strong milky coffee with a bit of froth. It wasn't bitter to the point of throwing it away, but it definitely needed sugar. For a flat white it's the right size, but if you're used to giant cappuccinos you might notice the size difference. You could buy 2 though and still be cheaper than most large chains. On that note, I'm tempted to give them a second try and I'll definitely be back, but maybe not for the flat white.
Where: 45 Newman Street, W1T 4QE
Distance from W1A: 0.4miles
Scores
Taste: 5/10 I've had a lot worse at Costa and paid more than twice the price.
Value for money: 8/10 great price but also great service. Really friendly staff and the other customers were chatty too.
A cake that demands a bit of a sit-down and a good brew. Just right for Father's day.
You can find the full method and more ramblings about Father's day over here at my monthly blog for Rangemaster.
Caraway Seed Cake
100g caster sugar
15g honey
115g baking margarine or unsalted butter
150g self raising flour
25g ground almonds
1 1/2 tsp caraway seeds
2 eggs
pinch baking powder
3 tsbp milk
This is great for those who are doing hefty amounts of physical training and need a protein boost for recovery but also want dessert. For those who think the whole protein shake thing is weird (it's not something I ever saw myself using but it's good for me at the moment) I've included a normal version below as well. The same company do a pancake and maple syrup flavour mix. I think that might have to be tested soon,
PB&J slice.
Heck. Yes.
For the base
4 teacups of oats /  muesli
4 tsbp peanut butter
1 tbsp treacle / golden syrup or Yacon syrup if you're that way inclined
For the top (see below for alternative version):
2 scoops of Jammie Biscuit Protein mix
1 pint water
1 sachet gelatin granules
Melt peanut butter and treacle in a large saucepan over a low heat.
Stir in the oats until fully coated. Add more PB / treacle as required (or butter if you like)
Press to oat mixture into the base of a loaf tin and bake at 120c for 30mins or until turning slightly golden on top.
Leave too cool.
Using the instructions on the gelatin granule packet, dissolve it in as little water (taken from the pint) as the packet suggests is allowed. Add this to the rest of the water, mix well.
Put two scoops of the protein powder in a shaker and add the liquid. Shake well.
Pour the resulting mixture over the cooled base and put int he fridge to set.
Run a palette knife around the edge once set and then turn out.
You can swap out some of the water for almond or other milks. You could also add fruit or coconut flakes or a while host of other things. I drizzled a bit or warmed jam over it and ate with blueberries.
I think you could legitimately have it for breakfast with a nice strong coffee. 
For non-protein version:
1 x 135g packet strawberry jelly
290 ml chilled evaporated milk
Make the jelly but only add 300ml water to it.
Allow the jelly to cool but not set, then pour in the evaporated milk
Whisk for about 5 – 10 minutes, the mixture should contain lots of bubbles
Pour onto the base and leave to set
Thanks to GoNutrition for the  sample. I was not required to review, write recipes or anything else but I happen to like it. I also got sent their protein hot chocolate mix. It mixes really well and makes a lovely thick hot chocolate. My only slight complaint is that it could be more chocolatey, but I like my chocolate dark so I just add a bit of cocoa. They are always on sale in some way or another, so it's pretty good value.
I try to take a packed lunch and breakfast to work as much as possible but there are inevitably days when I forget or when I'm in town in the evening as well and need to get food. So, I'm going to start a new series called W1Ate about things I have eaten within the radius of my workplace, W1A. This will sometimes be a sandwich from a supermarket, sometimes just a coffee, sometimes more substantial outings. Sometimes it'll be adventurous, sometimes very safe. it'll always be pretty brief!
What: Raw BLT sandwich from Raw Imagination "A classic reinvented. With a generous portion of coconut chips tossed in olive oil, smoked paprika, and maple syrup. Accompanied by crispy lettuce and juicy tomato to hold true to its famous name."
How much: £5ish – can't remember exactly but remember thinking it was pretty steep
Notes: I thought I'd fully embrace the Planet Organic style and go for a raw-vegan offering. The "bread" was firm and flat – closer to a crispbread than normal bread. As a while the sandwich was enjoyable and tasty. Ingredients very fresh and crunchy but somewhere in the mix there was WAY too much onion. I spent the rest of the evening holding my hand infront of my face. A shame as it was an intriguing and enjoyable mix of textures.
Where: Planet Organic, 22 Torrington Place, London WC1E 7HJ, United Kingdom
Distance from W1A: 0.6 miles
Scores
Taste: 3/10 (caused by the onion)
Value for money: 5/10 I realise good ingredients cost money and raw food is harder to manufacture, but that much seems a lot for a sandwich.
I bought the sandwich with my own money. All views are my own.