Request a Bake
I'm hoping to make this blog more interactive by offering to make your requests. So, sweet or savoury, click on "request a bake"
23/100
We've had a Peanut Butter Cheesecake and now it's time for some more peanutty decadence. I've dialled back the peanut content a little as not everyone likes it.
As with the cheescake, I felt that the amount of crust/base wasn't enough for a 9 inch dish but that the filling was too generous for an 8 inch one.
Candy Bar Pie
from Home Sweet Home by the Hummingbird Bakery
Serves 8-10
For the crust:
125g Oreo biscuits (you could use bourbons or any biscuit really)
125g Digestive biscuits
150g unsalted butter, melted
For the filling:
3 Snickers bars [I used Mars bars]
230g cream cheese [I used 190g and made up the rest with extra soured cream]
100g caster sugar
80g soured cream [I used 120g see above]
140g crunchy peanut butter
2 large eggs
For the topping:
140g dark chocolate chips [or infact any dark chocolate, chopped]
2 tbsp double cream [I didn't bother with this and just used melted chocolate]
50g roasted salted peanuts or crushed mini pretzels [I used mini marshmallows]
Equipment:
9inch pie (flan) dish [see comment above about base:filling ratio]
—–
Join Beckie and me in our Epic 100 part bakealong.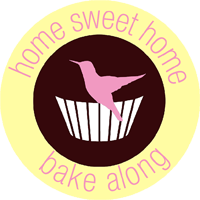 I'm also adding this to CookBlogShare
Well, tomorrow is marathon day. Here's the story so far..
1. Introducing the ambassadors
4. Tapering and waiting for the big day
Now it only remains to see what happens. I'm more nervous than I've ever been for a race but I'm also more excited. Whatever the result I've enjoyed the training (honest!) and the banter with the other ambassadors.
I've been remote-trained by the ever patient and positive Ben from Full Potential. I hope I do his excellent training plan justice.
I feel it's only fair, in the interests of transparancy to tell you that you can live track all the racers here.
Me: #1786
@runtom984 #6678
@amileyababes #5439
@Andypeo935 #7935
A big thankyou to Athletics Weekly for choosing me to be an ambassador and to the various sponsors: ASICS, MyProtein, & Erdinger Alkolfrei for all the great looking and tasting items they sent. Also to Jabra who came on board to sponsor not only this race but also the excellent Marathon Talk podcast which has got me through many long runs.
Other shout outs to:
Advent Running for being so enthusiastic about running and making me want to run in a group. Hope to join you more over the summer
Beets Blu for the heartrate monitor
The Protein Drinks Company for some really good milkshakes. Post-run chocolate milk is ace.
On for the Road podcast for entertaining me in training.
OTE Superfoods through Alara for the Yacon syrup and Yacon porridge from Pertwood which definitely gave me some oomph.
Pizza Express for letting me try out their Spring menu and allowing Mr B and I to have a relaxed and lovely evening with excellent food and great atmosphere – he's put up with a lot of early alarms, demands for massages and general whinging.
@Marathon_Mcr // @ASICSeurope // @MyproteinUK // @ErdingerAF_UK  // @jabrasport // @full_potential // @ProteinDrinksCo @AlaraCereals // @Beets_BLU // @marathontalk // @OFTRpodcast // @adventrunning  // @PizzaExpress
22/100
Again, the benefits of baking through the HSH book have kicked in as the peanut "brittle" aka praline is the same as the one on the Blondie Pie. As before though I thought I'd reached a dark enouch caramel stage and actually it turned out rather light. It still tastes good – just not quite so caramel-y.
I've not made many cheesecakes and I've certainly never made one with gelatine before. I was expecting a firmer set but I'm not sure if this is my mistake with the gelatine or whether it's meant to be like that. I'll see what Beckie's turns out like. Either way it's not really as transportable as I'd hoped, so I can't take it for eating with coffee after church tomorrow. I think we would end up with rather peanut-y bibles.
Anyway, it's pretty successful as a recipe. It's pleasantly nutty but not too much. Mr B doesn't really like peanuts but he's been happy to keep checking that it tastes good ;) All in the name of ensuring that the standard is kept up of course. Whilst it uses cream AND cream cheese, the gelatine give a more mousse-like texture.
Peanut Butter Cheesecake
from Home Sweet Home by Hummingbird Bakery
For the base:
200g nutty chocolate chip biscuits
75g unsalted butter, melted
For the cheesecake topping:
400g full fat cream cheese
150g caster sugar
4 large egg yolks
6 leaves of gelatine
150g crunchy peanut butter
250ml double cream
For the peabut brittle:
100g unsalted roasted peanuts
200g caster sugar
50ml water
9in springform cake tin
Join Beckie and me in our Epic 100 part bakealong.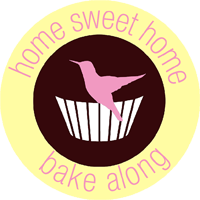 I'm also adding this to CookBlogShare
Yup. It's a giant biscuit in the form of the Rotherham United Football Club logo.
I really wanted to make an actual red windmill for Mr B's birthday but I decided to be realistic and stick to a birthday biscuit instead. Using the tried and much enjoyed Linzer biscuit recipe I made a big shield and the traced the shape of the logo ont the next layer and cut it out. It still looks a bit like a 10 year old made it, but it's the love with which it was made that matters, right?
Now, if only RUFC could actually win…. I believe that Brighton are the challenge we face today. Come on you Millers – I'll make you all a biscuit if you win.
21/100
Back to cupcakes this week. Have I mentioned before how much I like the Hummingbird method of making the sponge? I have? Oh well…I like it. It's much less mess. Butter, sugar and flour together, then add liquids. No creaming. Wahoo. I'm not sure I should admit to this as a baker but I feel sometimes like creaming sugar and butter are the equivalent to doing the masking tape before you paint a room. It's necessary and not entirely unpleasant but sometimes you just want to get to the next stage and you know you can't get away with cutting corners on it.
Anyway, I digress. This recipe revealed one of the many plus-points of this bakealong – that of building up skills. Having made custard before this part of the recipe didn't fill me with trepidation as it might have done in the past. I had two issues with this recipe, both of my own making: 1. They sponge is very dense and the blueberries sank. This is because I misread the baking powder amount and used 1tsp (a tablespoon sounds a lot?) and also because I used frozen blueberries. 2. I couldn't get the topping stiff enough to make nice looking swirls. This is because I stopped paying attention when whipping the cream and let it go too far so it was more like mixing custard with clotted cream. Next week it's Peanut Butter Cheesecake.
Blueberry and Amaretti Trifle Cupcakes from Home Sweet Home by Hummingbird Bakery
Ingredients: For the cakes: 70g butted 210g plain flour 1 tbsp baking powder [I used a tsp…oops] 1/2 tsp salt 250g caster sugar 210ml whole milk [I used semi] 2 large eggs 1/2 tsp vanilla extract 150g blueberries [ Like Beckie, I used frozen, but not for such good reason as her – frozen are cheaper and I had some in stock] For the topping: 330ml whole milk 3 large egg yolks 60g caster sugar 20g plain flour 20g cornflour 150ml double cream To top: 75g blueberries 50g amaretti biscuits, crushed into fine crumbs Join Beckie and me in our Epic 100 part bakealong.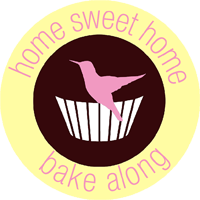 I'm also adding this to CookBlogShare
Yes, Nutella brownies are nothing new, but I'd never tried them and I was amazed at how easy and effective they are. Take 1 jar of Nutella, a couple of eggs and a spoon or so of flour and boom. Brownies.
You can find the oh-so-tough recipe and method over at my monthly blog for RangemasterUK
Of course Easter isn't all about chocolate. In fact it's not about chocolate at all. Here's a video to get you thinking: