Request a Bake
I'm hoping to make this blog more interactive by offering to make your requests. So, sweet or savoury, click on "request a bake"
Except it's not. Raspberry Jelly Roll that is. It's more of a Toffee slump. For the real thing go and see what Beckie made.
The recipe specifies a decorative dusting of icing sugar. If yours looks like mine then, to be honest, nothing is going to make it look pretty. Instead I adorned mine with a little sign that said "it tastes a lot better than it looks". Given that the whole lot got eaten, I think the Euston Church morning congregation agreed. Well, either that or they were hungry and they didn't want to brave the rain.
Here's my excuses this week….the cat sat on my baking…no? Ok here's the real excuse:
I realised that I didn't have any normal flour due to a flour-mite purge  (ewww – where do they come from?!) so I had to resort to gluten free flour which I'd had stored elsewhere. This wasn't necessarily a bad thing as we always provide a gluten free option at church. I knew that GF flour gives a more crumbly bake so I added a little Xanthan gum. I also only had 3 eggs so I 3/4rd the recipe. My first mistake was thinking that because of the reduction in volume I could used a much smaller tin. This meant that the sponge rose too much and was too thick for a good roll. Don't be deceived by swiss roll batter – you only need a very thin layer. Mistake no.2 was being too paranoid about overbaking the sponge and it being hard to roll. As soon as it started to brown I took it out as instructed and rolled it up hot in its teatowel. It looked a bit soft at this point but not too bad. However when I came to unroll and fill the sponge it was very sticky in the middle. I managed to spread the toffee and re-roll but had to put the whole lot back in the oven to dry out a bit. Having chatted to Beckie we're convinced the sponge needs about 10mins more than the recipe states. All that noted though, I'd say it's a good recipe, works well with gluten free flour and I'd make it again. I need to banish the Jelly-roll-jitters!
Raspberry Jelly Roll
from Home Sweet Home by the Hummingbird Bakery
4 eggs, separated
180g caster sugar
1tbsp vanilla extract
120g plain flour (I used Doves Farm gluten free plain flower mix + 1tsp xantham gum)
3/4 tsp baking powder
1/4 tsp salt
160g raspberry jam (I used Aldi Toffee spread which is VERY good)
Rough instructions:
Whisk egg whites
Whisk yolks, sugar and vanilla then add flour, bp and salt.
Combine with whites.
Bake.
Rollup while still warm in an icing sugar dusted teatowel.
Leave for a bit then unroll, fill and re-roll.
Next week: Parmesan shortbreads.
Join Beckie and me in our Epic 200 part bakealong.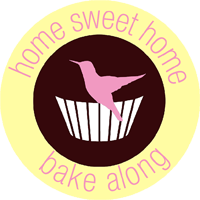 See other bakes from this week at Cook Blog Share
I thought that the base:lid:filling ratio was a little awry on this recipe.
I seemed to have fairly modest amount of base mixture so I put it in a relatively small tray. Then when I came to add the custard filling there was loads. After that it seemed that there was not enough chocolate to cover it. So, I melted some more. I *may* have over melted a bit so it doesn't look as lovely and glossy as it should. Also I didn't have any suitable baileys or kahlua or other alcohol. I considered using cherry brandy (don't ask) but thought my testers might not appreciate it so I used milk instead. However, Beckie didn't have the ratio problem so maybe my scales were wonky?
Still, they went down very well with Mr B and with my Bible study group. I would argue that you could up the custard poweder in the middle to make it more custardy. I think the title of the recipe is misleading as there's a real taste of coconut and almond to these, which is no bad thing but could catch eaters unawares.
Chocolate (coconut and almond) Custard Squares
from Home Sweet Home by the Hummingbird Bakery
Base 
100g amaretti biscuits
60g unsalted cashews 
40g cocoa powder (don't bother sifting – it's not worth the time if you mix well)
100g caster sugar
150g unsalted butter
80g desiccated coconut
2 large eggs
Custard middle
200g unsalted butter, softened
4 tablespoons custard powder
1 teaspoon vanilla extract
500g icing sugar
4 tablespoons whole milk
Chocolate lid
150g dark chocolate  –  as dark as you can bear
25g unsalted butter
3 tablespoons Kahlua (I used 3 tbsp milk)
Method is along the lines of…blitz all the dry base mixture, add the wet, mix and bake at 170 for 15mins). Cool.
Make buttercream but with custard powder added in. Top the base and leave overnight.
Melt chocolate and butter, add booze and cover.
Jelly Roll is next…which is swiss roll in normal non-Hummingbird language!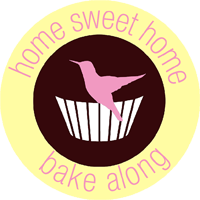 This is exciting! Today I have a trans-atlantic blog-swap for you. I have posted a Thai Fusion Fish and Chips (think coconut tempura and mushy aubergines) recipe over on Liza's blog and in return she brings you a welcome memory of warmer days with her BBQ Chicken recipe. As you'll see, her blog is a delight not just for the tastebuds but for the eyes as well….I feel slightly ashamed to sully it with my dodgy photos but delighted that I get her fantastic looking food for this site. So, promise me you'll go and see her site, but don't abandon this ramshackle corner of food-blogger land!
———————
Hey! I'm Liza, a foodie blogger from the United States, in Maryland. I live in New Windsor, which is about an hour west of Washington, D.C., and happens to be a terrific mix of rural countryside and urban sprawl. Over on (a)Musing Foodie you'll find me writing about a variety of things including sourcing local ingredients, organic food, farming (my sister's an urban farmer in New York City) and – of course – recipes!
Gill and I have been paired up by WORLDFOODS Asian Fusion Sauces to share not just a bit about ourselves, but also to swap recipes that showcase a traditional hometown meal…with a twist. Fun, right?
We're smack in the middle of fall here in the States, which means changing leaves, a chill to the air, Thanksgiving preparations and football – both college and professional. And by football, I mean American football (of course), which actually has nothing to do with foots…er…feet. What can I say? It's an American favorite for most.
One great thing about football season is the crazy amounts of food that get prepped to go along with game watching, whether you're at home or tailgating. Namely: BBQ.
BBQ also happens to be one of our most popular American pastimes. It's also known as barbecue, or even barbeque, depending on what part of the country you live in. And, the term "BBQ" can mean a variety of things itself. In this case, I'm referring to BBQ as the food. It's chicken, beef or pork, either sauced or dry rubbed.
Others, however, use the term in conjunction with the device with which one grills the BBQ. Or even to describe an event to which you're invited: "Hey, let's go to the Smith's for their annual BBQ celebration!"
Don't even get me started on the types of BBQ (the food) – vinegar based, sweet, etc. A bit confusing, but it's okay.
Let's get back to the point at hand – BBQ! Fusion BBQ! Specifically, a BBQ using WORLDFOODS Thai Creamy Chili Kaffir Lime Cooking Sauce. YUM!
Fusion Thai BBQ Chicken
 Prep: 30 min | Cook: 50 min | Serves: 2 to 4
Ingredients
2 split chicken halves (skin on, bone in)

1 bottle Thai Creamy Chili Kaffir Lime Cooking Sauce

1 tablespoon sea salt

1 teaspoon black pepper

1 tablespoon fresh chopped Italian parsley
 Directions
Preheat the oven to 425°F. Sprinkle the chicken with salt and pepper, and then place it in a large baking dish. Add ¾ of the bottle of sauce, making sure to coat the chicken completely. Sprinkle with parsley.Let it sit for 20 minutes while the oven preheats.
Transfer the chicken to a wire rack in a new baking dish and bake it for 40 minutes. Use the remaining sauce (not what's left in the baking dish) to give a fresh baste, and then continue baking the chicken for 10 more minutes – or until the temperature in the meatiest part reaches 165°F and juices run clear.
 The skin should be a lovely golden brown, and the wings will be deliciously crispy! Serve the Fusion Thai BBQ Chicken with steamed rice and a fresh salad.
Liza and I were both sent items free of charge to create these recipes. 
WORLDFOODS sauces are available worldwide, with a different selection available in each country. To find out the selection of sauces available in your country along with stockist details please visit: http://www.worldfoods.com.my/wf/where_to_buy/index.php
4/100
Blackbottom pie. The pudding for a bruised posterior. Hmm… maybe not. Sorry, I've been with toddlers all day so my brain is stuck  on "surreal" setting. Here's this week's bake from Home Sweet Home. It tastes good.
I made it in a 7 inch loose bottom cake tin instead of a flan/pie dish. It just didn't look like there was enough base for the pie dish. In hindsight, there might have been but I quite like this 'high-top' version of the pie. It's easy to make an involves very little hands-on time. I'd recommend it. There's a similar but more low-rent version of this here (Chocolate Marshmallow Pie).
As you can see from the pictures the chocolate/vanilla division is not very flat. In some places you get more chocolate than others. I think this could be due to impatience and the chocolate not having set properly.
Black Bottom Pie
from the Home Sweet Home by Hummingbird Bakery
While Beckie may have accidentally bought choc-chip cookies, I discovered that Waitrose actually didn't have any double chocolate cookies. In fact, their double chocolate cookies were normal cookies with two types of chocolate chunks. Very nice, but not what the recipe required so I nicked Beckie's idea and added some cocoa to the crushed mixture.
200g double chocolate cookies – see above.
80g unsalted butter, melted
3 tablespoons rum – I used some whisky liqueur I had kicking around.
1 tablespoon water
2 leaves of gelatine
500ml whole milk
4 egg yolks
160g caster sugar
1 tablespoon cornflour
170g dark chocolate – I used 100g dark and 70g of Lindt's salted milk chocolate.
400ml double cream – I left this of. You know by now we're not fans of whipped cream here.
3 tablespoons icing sugar – only needed if you're doing the cream
20g dark chocolate – this should be shaved but I forgot and let Mr B eat the chocolate so I used a crumble Twirl chocolate bar instead.
Method is basically:
Crush biscuits and mix with melted butter, press into base.
Make custard mixture. Split in half and mic one half with chocolate.
Pour chocolate half on base, leave to cool then pour the plain half on top and leave to chill over night.
See Beckie's version here. I'm looking forward to Chocolate Custard Squares next week!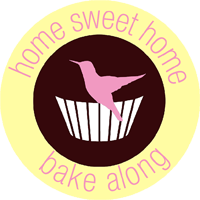 This is a shameless copy and paste of a press release but it's a rather good freebie so I thought I ought to be nice and share it…
TODAY (Thursday 13th November) just say "free Snowball Dough Balls please" at any Pizza Express and you'll get to enjoy a free portion of Snowball Dough Balls – a festive favourite combining PizzaExpress' iconic Dough Balls, with a sprinkle of cinnamon, a flurry of icing sugar and a generous dollop of vanilla cream dip.
This giveaway is to celebrate the launch of the new Christmas menu at PizzaExpress restaurants across the country. Snowball Dough Balls are back on the menu this week as part of PizzaExpress' new Christmas, featuring twists on the traditional such as Mince Pie Cheesecake and succulent duck with a mouth-watering plum sauce on a pizza the 'Anatra'.
When?
Thursday, 13th November, all day
Where?
Across all UK PizzaExpress restaurants
How?
To claim a free portion of Snowball Dough Balls guests will need to visit their local PizzaExpress restaurant and say 'FREE SNOWBALL DOUGH BALLS'. This can be for takeaway (no additional purchase necessary) or eat in (with the purchase of a main course).
Terms & Conditions:
1.    Offer open to individuals aged 16 or over
2.    Maximum of one serving per person
3.    Offer excludes Dough Balls Doppio, Dough Balls 'PizzaExpress' and Dough Balls Formaggi
4.    Offer cannot be transferred or substituted and no cash alternative will be offered
5.    Guests can redeem the offer via takeaway (no additional purchase necessary) or eat in (with the purchase of a main course)
Visit www.pizzaexpress.com/christmas for further information.
I was not paid to write this. I just wanted to share the festive bread-based joy with you. 
This is a re-edit of an old post and can now be found on my monthly blog over at Rangemaster
Mr Bland, who is a Yorkshire-man by birth, first introduced me to Parkin. In Yorkshire Parkin is a Bonfire Night tradition and I can see why. The best way to describe it to those of us more southerly born is that it's a really dense ginger cake. It is warming and sweet but the addition of oats and treacle create a depth of flavour and density of texture that is perfect for keeping the cold at bay on a cold November night. It's also sturdy enough to be wrapped up and shoved in a coat pocket for the walk home!
Ideally Parkin is made a few days (or even a week) before you want to eat it, as it matures excellently. However, it is still very good eaten fresh out of the oven, especially if drenched in custard. I am told that is also good eaten with a nice sharp cheese such as Wensleydale so I suppose I'll just have to try that out and report back.
I have given the option to sub-in oat granola for some of the porridgr oats as I like the extra texture it gives. If you do that you need to bring the sugar down a little as noted in the recipe below.
Ingredients
225g porridge oats OR 175g porridge oats & 50g oat granola
1 tsp baking powder
3 tsp ground ginger (Some people like to ½ tsp cinnamon or if you like it fiery you could also add chopped stem ginger)
225g plain flour
225g soft dark brown sugar OR 200g if using granola
170g black treacle
60g golden syrup
120g butter
1 large free range egg
250ml milk